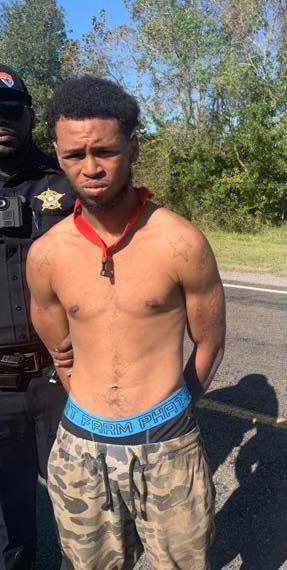 Story 1: A major accident occurred on I-10 East near Highway 99 shortly after 3 a.m. this morning, Saturday, October 31st. Two vehicles were involved. Thankfully, there were no life-threatening injuries sustained.
Official Chambers County Press Release:
OlodcttoSpmsubettr 31oen sesiaStl m2orae:24tdi tPfMrfo · Sheriff Brian Hawthorne reports that today a joint effort including Chambers County Sheriff's Office, Jefferson County, DPS, Texas Game Wardens and the Baytown Police Department resulted in the arrest of 22 year old Dale James Damond. A pursuit began after a Jefferson County Deputy made contact at mile marker 838, and the driver fled. Damond and two 15 year old passengers were located in the wooded area between Highway 61 and Interstate 10 feeder road in Hankamer, Texas.A search of the vehicle resulted in the finding of body armor as well as bullets.Chambers County will file 2 endangerment of a child warrants and Jefferson County will have multiple charges, including evading arrest and failure to ID."I am thankful that the pursuit and capture of the criminal were successful and the children in the vehicle were unharmed. I appreciate our area law enforcement partners and our combined efforts in bringing a peaceful resolution," said Sheriff Hawthorne.
Story 2: A police pursuit that began in Jefferson County culminated with a crash and rollover on I-10 at Highway 61 shortly after 9 am today. The three male suspects fled on foot after wrecking their vehicle. All three were apprehended. No major injuries were sustained.