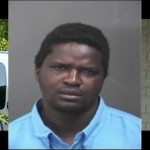 On July 28, 2015 at approximately 6:15 a.m., Baytown Police Officers responded to a shooting at the Church of New Beginnings located at 3220 N. Alexander Drive.
Pastor Benny Holmes was in his office and heard a loud noise come from the hallway of the church. Pastor Holmes went to investigate the sound and observed 27 year-old Lee Marvin Blue, Jr., carrying a large box filled with electronics taken from the church. The pastor asked Blue to put the box down and Blue made a quick motion toward the pastor. Pastor Holmes discharged one round from his 9mm semi-automatic pistol, striking Blue in his right shoulder.
Blue was life-flighted to Memorial-Hermann Hospital in Houston where he is listed in stable condition.
The Harris County District Attorney's office was contacted and a charge of Burglary of a Building was accepted on Blue.
The Baytown Police Department is committed to the safety of its citizens and will not tolerate this type of crime against members of our community. Anyone who has information on this or any other crime is asked to call the Baytown Police Department at 281-422-8371. You can also contact Crime Stoppers at 281-427-TIPS, submit anonymous tips online at the Baytown Police Department website http://www.baytown.org, or text keyword BAYTOWN plus your tip to 274637 (CRIMES). Crime Stoppers will pay up to $5,000 cash and you will remain anonymous.