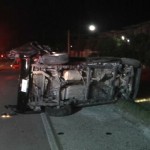 Early Friday morning, July 17, 2015, Baytown's emergency personnel responded to the scene of a single vehicle rollover in the 6900 block of N. Main in Baytown, Texas. The driver did not sustain life threatening injuries, but was transported to the hospital as a precaution.
Another accident occurred on Spur 330 near Rollingbrook on Friday, July 17, 2015. The driver a cement truck stated a tire blew out causing him to lose control. He was not injured. The fire department had to put out a fire that started in the sewer when gas spilled from the cement truck.
In a press release from Detective Robert Parker with the Baytown Police Dept.
At 2:16am this morning, a 21 year old Baytown man was driving a white Honda Civic east in the westbound lanes of Interstate 10. The Civic struck a tractor trailer traveling west in the center lane on the Wade Road overpass. The driver of the Civic was ejected from his vehicle and was struck by other motorists before traffic could be stopped. He died at the scene. An autopsy will be conducted to determine if drugs or alcohol were a contributing factor. The driver of the tractor trailer was not injured. This collision is still under investigation.
Detective
Robert B Parker
In other news:
In honor of Steve Burton who passed away from this life today. Steve and his wife Marsha sponsored the annual Thanksgiving Feast at the Baytown Community Center. Each year for 18 years, Steve and Marsha spearheaded the feast that fed up to and sometimes over 2,000 people. At each event, along with their volunteers, they gave free clothes and boxed food items to all in need. They also delivered the full-course meal Thanksgiving plates to the home bound. Steve will be sorely missed by all his family, friends, church family and associates.