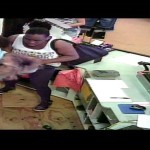 On April 4, 2015, officers were called to investigate an assault inside Rabu located at San Jacinto Mall. A 20 year old employee of the store reported being assaulted by three teen females while she was working.
The altercation occurred after the victim was attempting to enter the mall to go to work and the teen females prohibited her by entering the mall by holding the doors shut. The victim exchanged words with the teens about their actions and walked to her work.
One of the teens approached the victim and began to physically assault her while the other teens assisted in the assault. Detectives have obtained the surveillance video of the assault and with the assistance of social media the teen assailants were identified.
On April 10, 2015, detectives charged 18 year old Shai-Shonnie Thomas and two other juveniles with Misdemeanor A assault through the Harris County District Attorney's office.