Official Baytown Police Press Release (Updated 08.01.16):  
2016-42755 – On July 30th at approximately 11:37 pm officers responded to the 500 block of Forrest Avenue for a burglary in progress where the homeowner reportedly had shot the intruder. Upon arrival officers learned that the homeowner had heard someone knock at his door but when he went to the door he did not see anyone. The homeowner went outside to investigate when he observed a white female walking in the street, away from his house. Sensing something was not right, the homeowner retrieved his handgun and checked the outside perimeter of his residence. While doing so, he came across a white male, dressed in dark clothing, wearing a bandana over his face, who appeared out of the dark. The startled homeowner reportedly drew his weapon and told the suspect not to move. The suspect disregarded the commands and made a quick move towards the homeowner, at which time the homeowner discharged his weapon, striking the suspect one time in the abdominal area. The suspect was flown to Herman Hospital for his injuries and is currently in stable condition and is expected to survive. Detectives are still investigating so I do not have a photo at this time.


Lieutenant Steve Dorris
Criminal Investigations Division
City of Baytown Police Department
3200 N. Main
Baytown, Texas 77521
Office: 281-420-6617
Cell: 713-412-1521
Shortly before midnight on Saturday, July 30, 2016, a white male was shot in the 2000 block of N. Jones by the homeowner while trying to break into his house  The suspect sustained a gunshot wound to his lower quadrant with a 9mm.  He was air lifted to a Houston Hospital.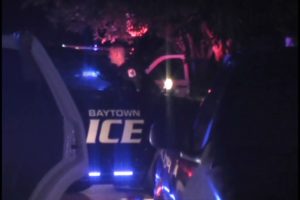 His current condition unknown.